HOME

(c) Picture by Frank Neumann <beachnase@web.de> 2017-05-20 12:30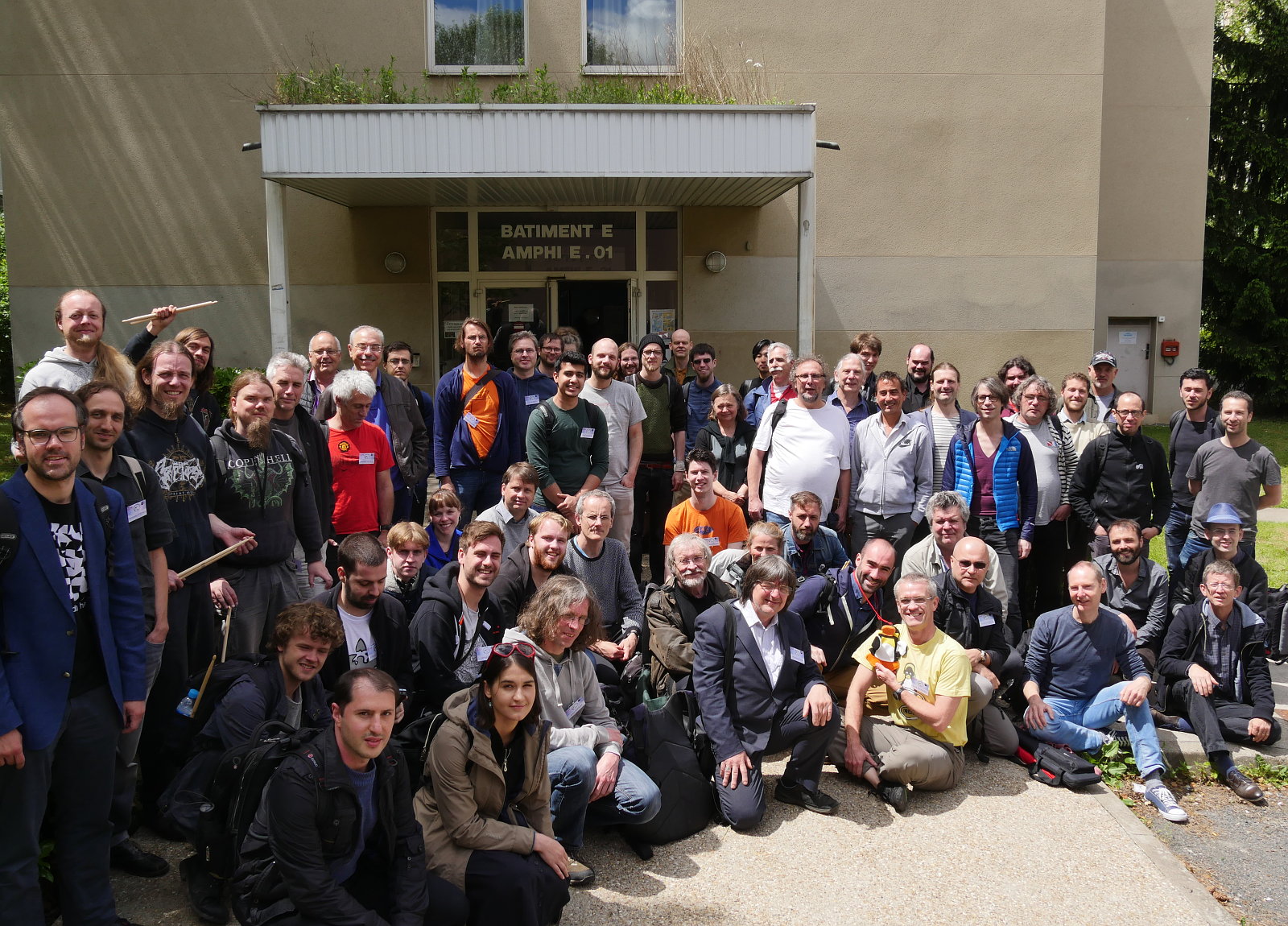 (c) Picture by Rui Nuno Capela <rncbc@rncbc.org> 2017-05-20 12:30
see http://www.rncbc.org/lac2017
LAC2017 special guests
Paul DAVIS  
Paul Davis is the lead developer of the open source Ardour digital audio workstation, as well as the JACK Audio Connection Kit. Before his18 years involvement with audio software, Paul moved between academia and the corporate computing worlds, including 4-1/2 years at the University of Washington's Computer Science & Engineering department, and then becoming the 2nd employee at Amazon.com. In 2008/2009 he taught at the Technische Universitat, Berlin as the Edgar Varese Visiting Professor. Paul normally lives near Philadelphia, PA, but can also be found living and working in a solar-powered van. To his regret, Paul does not play any musical instruments.
Thierry CODUYS
Artist, musician, new technology expert, Thierry Coduys specializes in collaborative and multidisciplinary projects where interactivity meets the contemporary arts. Since 1986, he has worked closely with the avant-garde of contemporary music (e.g. Karlheinz Stockhausen, Steve Reich, ...) to realize electroacoustic and computer systems for live performance. After a few years spent at the IRCAM in Paris, he becomes the assistant to Luciano Berio. Building on his experience of the contemporary art scene, he creates his own company in 1999: an artistic research and technology laboratory called 'La kitchen', where artists from various horizons (e.g. music, dance, theatre, video, network) came to develop projects in collaboration with the team and where artists were encouraged to use Open Source Software. Thierry, among others, has been for more than 15 years the project manager of 'IanniX' (GNU GPL3 application), an interactive software interface, inspired by the UPIC of Iannis Xenakis and senior consultant for the development of 'Rekall' (GNU GPL3 application), a video-annotation software to document digital performances.
Programs
Thursday, May 18, Friday, May 19 and Saturday, May 20, 2017. 9:30am-00:30pm and 02:00pm – 06:30pm.
Thursday, May 18 – 06:30 pm
Friday, May 19 – 08:30 pm
Saturday, May 20 – 08:30 pm
Thursday, May 18 – 02:30 pm -06:30 pm
Friday, May 19 – 02:30 pm -06:30 pm
Saturday, May 20 – 02:30 pm -06:30 pm
Access to conferences and concerts will be free for the public.
Scheduling
Call for Participation: December 10, 2016
Deadline for submissions: February 10, 2017 => February 28, 2017
Acceptance notification: March 20, 2017 =>March 29, 2017
Final deadline for 'camera ready' paper: April 15, 2017
Author registration deadline: April 20, 2017
Final program: May 1, 2017
LAC 2017 conference: May, 18-21, 2017
About
Linuxaudio.org is a not-for-profit consortium of libre software projects and artists, companies, institutions, organizations, and hardware vendors using Linux kernel-based systems and allied libre software for audio-related work, with an emphasis on professional tools for the music, production, recording, and broadcast industries. The consortium aims to co-ordinate joint projects between members, collaborate on the promotion of Linux based systems for audio tasks, offer programs beneficial to members and subsequently its mission, and provide a single point of contact for prospective industry partners.
Organisations, institutions, companies, and projects of all sizes as well as individuals are involved in audio development on Linux kernel based platforms. Until the launch of Linuxaudio.org, there has not been a formal organisation to assist and promote the development of this technology. Linuxaudio.org takes its inspiration from the Open Source Development Lab, where Linux kernel development is co-ordinated, and the Consumer Electronics Linux Forum. Both of these organisations have attracted broad support from the leading companies in their respective fields.
Motivations
For many years the UJM music department and CIEREC have developed teaching, research and production around electronic music and the use of digital technologies for musical and artistic creations. During the last ten years, we can mention the opening in 2011 of a specialized master for Computer Music Producers and in 2016 a new master for Computer Art Producers, the creation of several computer music classrooms, an auditorium, and two recording and mixing studios at the university. The University and the French National Agency for the Research have funded several research projects on DSP technology and on the development of Open-Source software, in partnership with GRAME.
In 2011, we have organized the JIM2011 (French-speaking computer music days) and several other international conferences have already been held during the last decade and have been published. So we have a rich experience in organizing and hosting international events.
Today, it seems to us important to focus on digital practices on free software, especially Open-Source tools that put together communities on common projects.
May 2017 is situated at the end of the semester, and we can therefore have many classrooms, amphitheaters to host the conferences, installations, demos, workshops and concerts.
Audience expected: students (in music, arts, DSP, computer science), musicians, researchers, developers….