USEFUL INFORMATION
Access to conferences and concerts will be free for the public
Location: Amphi E01 - Site Tréfilerie


Adress: CIEREC - 33 rue du 11 novembre – 42023 Saint-Etienne – France
Secretary: Nadine Lair (CIEREC): +33(0)4 77 42 16 61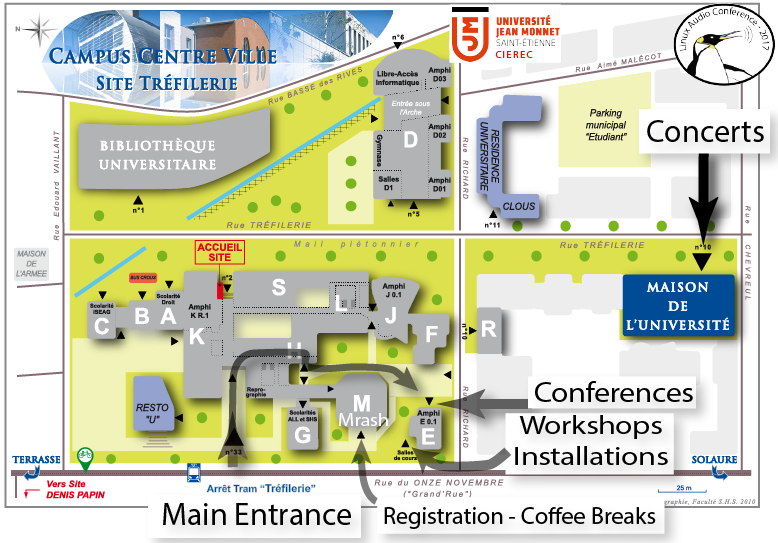 Restaurants
There are many restaurants near the university…
The local environment
At an altitude of 500 meters, Saint-Etienne (170 000 people) is sixty kilometers from Lyon, about ten kilometers from the Loire Valley and at the bottom of the Mount Pilat (1432 m).

The Jean Monnet University is a multidisciplinary university (about 20,000 students). The Arts and Music campus is located downtown, with direct access from the train station by tram (15 min.).
The Music and Musicology Department has seven permanent teachers for a hundred undergraduates, about fifty students in Master and fifteen PhD students.
LAC will be held in the lecture halls of the university (for paper sessions, workshops, hacker space). The evening concerts will take place one evening in the University Concert Hall on Thursday and Friday (Linux sound night), and at the Estancot on Saturday .
Access to the place and accommodation capacities
By plane:
Lyon St Exupery International Airport,
By train:
From Paris: 2:40, TGV trains are direct from Paris, From Lyon: 40' by train, a train every half hour
Many hotels in the city center, near the university.