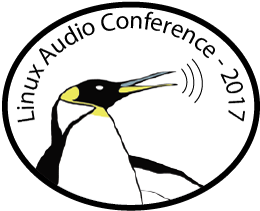 Multimedia Installations - Accessibles du 18 au 20 mai sur le site Tréfilerie
1. OUPPO (Harris Louise - United Kingdom)
Ouppo is a generative audiovisual installation composed of four modular units for video mapping.
2. SONIC CURRENT (Giannoutakis Kosmas - Austria)
Sonic current is a site-specific sound installation which transform architectural locations into "sonic conscious" organisms. The transformation of the site into a body, with its sense organs (microphones) and actuators (loudspeakers), enable the site to articulate and manifest itself in an open dialogue with its visitors.
3. THETA FANTOMES (Apo33 Collective - France)
Thêta Fantomes is a cross-disciplinary digital game/art project. Its an art piece developed by APO33 to realise some of our ideas about using real-time neuronal data processing with game play in a hybrid transcendental experience.
4. ZIC STREET BOX ((Lionel Rascle)
Conservatoire de Musique de Saint-Chamond - France
SicStreetBox is an interactive equipment targeted for public demonstration and Raise awareness to the use of technologies for sound art creation. The songs used in the installation are designed by the pupils of the computer music course in Saint-Chamond music school.
5. SOUND SCULPTURES (Thomas Barbe - France)
The sound sculptures of Thomas Barbe question the link between sculptural form and sonorous generation. His creations situate the sound in the spatial environment in a tangible way. They question the link between visual form and sound activity.